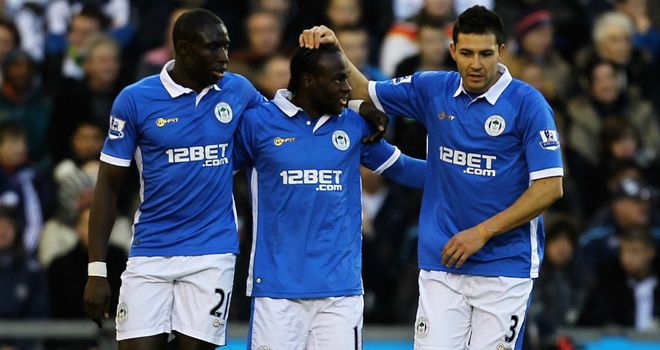 When Roberto Martinez chose not to delve into the market to replace the outgoing Charles N'Zogbia, it raised a few eyebrows.


Of course, Charles N'Zogbia was Wigan's most creative and dangerous player.


But Martinez has intelligently replaced Charles N'Zogbia without many of us even recognising.


Football is similar to any industry, if one leaves, it normally leaves a gap for someone to step up to and take the mantle.


Victor Moses has done exactly this.


The 21 year old has grabbed his chance with both hands and hasn't let go.


Indeed, Victor Moses hasn't exactly taken the Premier League by storm.


But he's shown he's capable and competent enough to fill the void left by Charles N'Zogbia.
Moses has given the Wigan fans plenty of excitement. His ingenuity, pace and tenacity makes him a joy to watch, but from the perspective of the opposition it makes him incredibly hard to contain.


Just like Charles N'Zogbia, Victor Moses is very comfortable with the ball at his feet and going past players is a key feature of his style. But what makes Moses such a potent threat is his technical ability. Moses has a fantastic first touch and great ball control, meaning when in full momentum it often takes a handful of players to silence the threat created by Moses.


Not only this, Moses's sheer strength and blistering pace is a key reason as to why defenders struggle to contain him. On the flip side, these attributes along with his creativity give Wigan a player capable of changing the games.


Victor Moses creative influence on Wigan is clearly recognisable. This season, Moses has created the second highest amount of chances for Wigan. Moses has created 22 chances for Wigan. This is outstanding. After all, it just emphasises how beneficial Moses' contribution has been for Wigan. At the young age of 21, Moses has proved he is good enough to make a telling difference to a Premier League side. Furthermore, Moses's attacking nature is also highlighted by the fact he has made the most final third passes for the club (266 final third passes).


The statistical proof Moses, at just 21 can be trusted to create in the Premier League is great news not only for Wigan, but for Nigeria. It highlights Nigeria have a young attacking footballer who can consistently create chances in England's highest division.


And the fact the player is still 21, shows the player has the significant potential to develop into a fantastic winger.
However, there is room for improvement in Victor Moses' game.


As much as the young winger has shown great potential, he has also shown weaknesses and inconsistencies.


Moses' wastefulness is a clear cause for concern.


This season, Victor Moses has had 60 shots for Wigan. The highest amount of shots any Wigan player has had. However, this would not be a major issue if it meant he was scoring and Wigan were winning. But with 60 shots, Moses has managed just two Premier League goals. Thus giving Moses a woeful chance conversion rate of just 5%.


Moses needs to be more intelligent, he needs to improve not only on his finishing, but his decision making too. The talented winger needs to consider if passing instead of shooting could create a better chance for his side to score.


Furthermore, Wigan are in a perilous position whereby points have been hard to come by. This wastefulness by Moses could prove to be costly for the struggling side.


But on the other hand, from the perspective of the player, Moses' willingness to shoot shows the confidence embedded within the youngster. Moses is willing to take risks and has enough belief in himself to attempt to the change the game.


Victor Moses bright first half of the season has left many touting if he has the potential to play for one of the bigger clubs.


Indeed, he has the raw skills and potential not only to play for a bigger Premier League side, but to possibly be a full Nigerian international.


However, Moses needs to be more consistent, more intelligent and less wasteful.
The Wigan winger has the potential to go a long, long way. But its vital he learns, develops and crucially shows a willingness to become a good player.


Victor Moses has proven at a young age he can compete in the Premier League, but this is just the start.


Victor Moses is by no means a finished article.
Statistics from
EPL Index
. (Stats taken on 10/01/12)